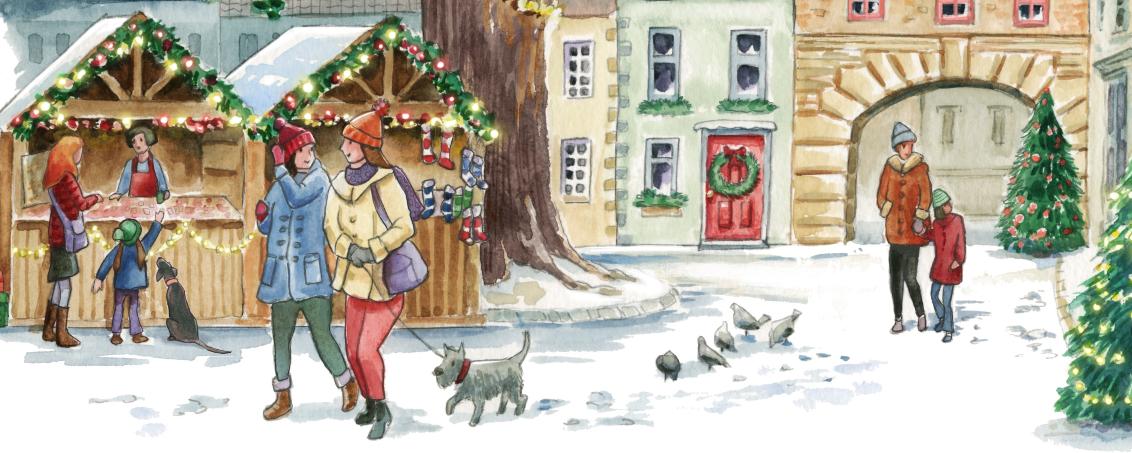 Discover the magic of Bath Christmas Market
From Thursday 24th November - Sunday 11th December 2022, the picturesque streets of Bath are transformed into a magical, festive experience.
Meander through the streets of Bath adorned with over 150 twinkling chalets and discover some of the best crafters that the South West and beyond has to offer. With stylish homeware, handmade jewellery, personalised presents and more, bathe in the sights and smells of Christmas whilst ticking everything off your shopping list.
Festive Food
It wouldn't be Christmas without a festive treat. At Bath Christmas Market, pick up your favourite winter warmers to enjoy as you explore everything the market has to offer. Grab your Christmas market favourites or a comforting hot drink to keep you toasty whilst you wander around the Market.
For somewhere cosier, The Lodge is the perfect place to relax and warm up. The Lodge can be found right at the heart of Bath Christmas Market on Stall Street.
Don't forget to bring along your reusable cup to receive a discount on warming festive drinks from all the Market's caterers.
Merry Music
An abundance of musical entertainment fills the streets with festive cheer, including community choirs and brass bands. Enjoy local school children performing their favourite Christmas songs, Visit Bath Abbey for Shoppers' Carols, or head to New Bond Street to see who's performing on the entertainment stage.
Charitable Spirit
Bath Christmas Market is proud to support local charities. In 2019, over £26,000 was raised by charities through the market's free charity chalet rentals. Make sure you pay a visit to their stalls and do what you can to show your support. We care about the local community and work hard to support as many groups as possible, from schools and colleges to choirs and dance troupes.
A Sustainable Market
Sustainability is at the heart of Bath Christmas Market. Each year we strive to be more environmentally responsible and make a positive impact on the city. This ensures that we are a leader in Event Sustainability for the Bath and North East Somerset region.
Every year, we are taking steps to reduce the amount of single-use plastic at the Market, working with contractors, stallholders and caterers to eliminate unnecessary plastic waste that has detrimental effects on our planet's ecosystems. In 2019, by adopting a single-use plastic-free policy, we were able to measure and audit the use of single-use plastics, set targets for reduction, and phase them out by finding alternatives.
To further reduce the Market's emissions, all stallholders are also encouraged to keep their stock in dedicated areas within the site, which is transported to them by electric cage vehicles to reduce fuel usage.
Pop-Up Chalets
Each year, Bath Christmas Market has a selection of pop-up chalets on Bath Street for a limited time only.
We are passionate about supporting small businesses and offer these micro-businesses short-term lets if they are unable to join us for the full duration. This year, are introducing Christmas Carts for those that want to try their hand at the Christmas Market for the first time. These will be available for three or four days, and you'll be able to find them at various locations throughout the Market.